On May 15, 2015, the Global Clean Vehicle Summit 2015 (GCVS2015) press conference was held at the Kempinski Hotel in Beijing. The Summit will be the first professional international conference in China, the world's largest car market, dedicated to "clean" and "green" cars. GCVS2015 aims to promote international cooperation in clean vehicle technology, advance policy and marketing exchanges, and encourage clean vehicle development and manufacturing in China and around the world. The Summit will be co-hosted by the Innovation Center for Energy and Transportation (iCET), the U.S.-China Clean Technology Center, and Jiangsu Wujin Hi-tech Investment Holding Co., Ltd.
At the press conference, Dr. Feng An, the Chairman of GCVS2015 Organizing Committee and the President and Executive Director of iCET, introduced the GCVS2015 themes and events as well as discussed the preparations. GCVS2015 will be held in the Clover International Exhibition Center of Changzhou from September 23nd to 24th. The Summit will have six major events, including the Industry Forum and the High-level Policy and Innovation Seminar, which will be joined by leaders from global political and business circles. Other events include the release of the Smog Index for 2015 cars, China Green Car 2015 Award Ceremony, Global Clean Vehicle Technology Showcase and Investment Pitching, Clean Vehicle Exhibition, as well as the Lakeside Test Drive. With the support of US Department of Commerce, GCVS2015 will organize a U.S. clean car technology trade delegation to visit China, and arrange high-level Sino-U.S. clean car talks. The Summit will also work with Israel EcoMotion to host an Israeli clean transportation, innovation, and technology delegation to assist Israeli companies seeking technical and financial partners in China.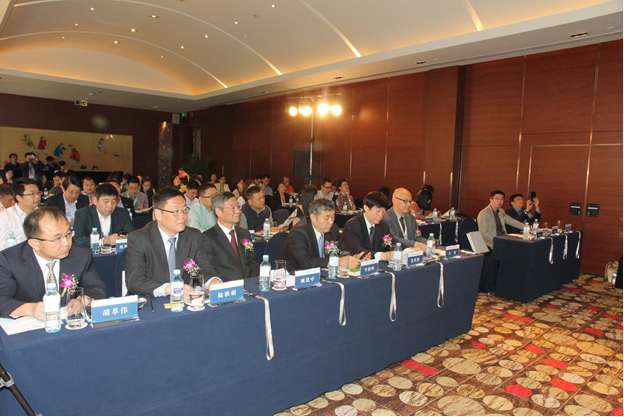 GCVS2015 Press Conference
At the press conference, Dr. Feng An stated that cars have become the primary source of air pollution in Chinese megalopolis such as Beijing, Shanghai, Guangzhou and Shenzhen as well as in many other emerging cities around the world. Vehicles use approximately 90% of gasoline in China and about 60% of its diesel fuel. Oil security, air pollution, and urban congestion have become the main three environmental consequences of automobiles' massive popularity. In this paradigm, the world requires a shift that begins with a clean car campaign. GCVS2015 will help re-define clean vehicles by making traditional cars cleaner, establishing new energy vehicles, and creating intelligent interconnected cars. Making traditional cars clean is the first step in achieving smog governance. New energy and intelligent vehicles will lead the clean transportation revolution in the long run. The Summit will look at the entire clean automotive industry chain as its basis, "green, low-carbon, clean" as its purpose, and "innovation, exchange and cooperation" as its theme. GCVS2015 will comprehensively display developments in automotive emissions controls and research as well as feature exhibits on how to make traditional cars clean, the new energy automotive industry, new technology, new equipment, and future market developments.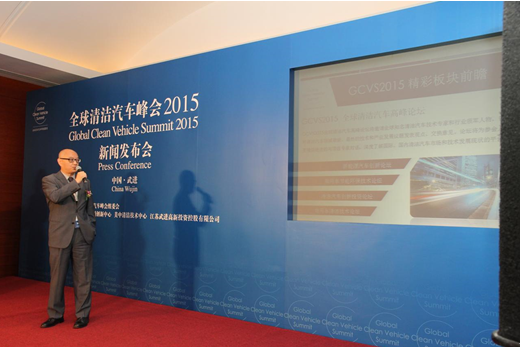 Dr. Feng An, Chairman of GCVS2015, made brief introduction about the Summit.
Special guest, Mr. Li Junfeng, Director of the National Research Center for Climate Strategies under the National Development and Reform Commission, affirmed the need for clean cars. In his speech, Mr. Junfeng noted that from a global perspective, developed countries have almost reached their peak in emissions control. Thus, vehicle emissions are a significant global issue. He hopes that everyone can have cars, but from now on, we need to focus on two issues. First, China and the world need to make cars with new clean technology and carry out the smog governance. Second, we need to focus on controlling carbon dioxide emissions. In order to show China's commitment to a sustainable future, Mr. Junfeng will introduce carbon dioxide emissions per hundred kilometers as an index at GCVS2015.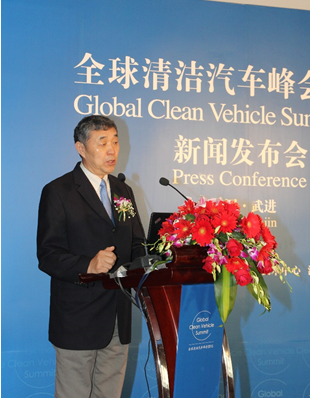 Mr. Li Junfeng, Director of the National Research Center for Climate Strategies, delivered the speech.
Mr. Zhang Shigang, the China Chief Representative of United Nations Development Environment Program (UNEP), advocated green car culture in his speech. He stated that GCVS2015 will convene government departments, industry associations, research and development institutions, think tanks, auto companies, media, and consumers from around the world. The Summit will play a positive role in improving vehicle energy efficiency, exploring the potential of clean and renewable energy, and guiding industry development. Mr. Zhang said that UNEP has been working closely with interested parties from around the world, including the Summit's organizers.
China's 10YFP are designed to accelerate developed and developing countries transition to more sustainable consumption and production. The green economic developments that are championed at GCVS2015 will help continue the paradigm shift away from previous belief that environmental protection and economic development are mutually exclusive. Mr. Zhang hopes the Summit will open a new era of clean and green cars by involving Chinese consumers and businesses, as well as stakeholders from around the world.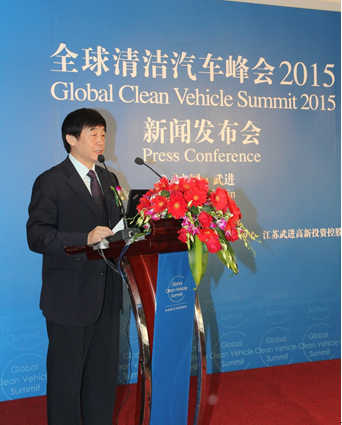 Mr. Zhang Shigang, China Chief Representative of UNEP delivered the speech.
Distinguished guests present at the press release included Mr. Nick Carlson, Deputy Director of the US Department of Energy and the industry leaders from Tesla, BMW, Ford, Toyota, General Motors, Nissan, Daimler, Jaguar Land Rover, and Peugeot Citroen. There were also a number of representatives from government and academic institutions, NGOs, and the China Environmental Protection Foundation. The GCVS2015 press conference attracted the attention and coverage of more than 40 professional media and such as China Daily, China Business News, Auto Expo, Sina Auto, iFeng, Science and Technology Daily, Canadian Broadcasting Corporation, as well as Market News International USA.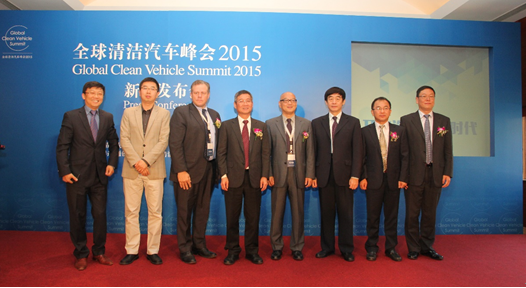 Guests invited took the group photo after the press release.